Road Racer X - Backmarker: Constructors Racing Group
December 2, 2010 by Mark Gardiner
Over the next few months, I'm planning occasional columns about American moto-businesses that are succeeding in spite of the recession generally, and the disastrous state of the motorcycle industry specifically. Frankly, I don't know whether I'll be able to draw any lessons drawn from these stories—except that no matter what the odds, it at least remains possible to build a business on great products made here in the USA by companies that are passionate about our sport.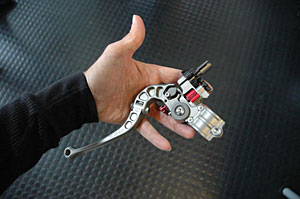 Chris and I drove down to Watsonville with his dog, Nero. Luckily, we left Nero in the van, because if he'd come into CRG, he would've freaked out. Don't get me wrong, he's very nice dog, but, he's been "fixed", you see. And this clutch lever is, as they say in England, the dog's bollocks. • Mark Gardiner photo
When my buddy Chris and I arrived at Constructors Racing Group in Watsonville, there was a big party going on across the parking lot at Fox Racing Shox. That was another reminder of the interplay between the mountain bike industry, which has flourished in this part of California since the '80s, and the moto business (Fox Shox started in motocross before finding success with bicycles; these days, they're into both of those realms plus ATVs and off-road trucks). Zero Electric Motorcycles, over in Scott's Valley, still betrays Neal Saiki's antecedents as a bicycle designer. And CRG's Spencer Owyang was a designer at Specialized before devoting himself full-time to motorcycle parts.
CRG has been making and selling levers, rearsets, and mirrors—and doing custom fabrication for race teams—for about ten years. There's no offshore outsourcing here. Every CRG component is made in-house, milled under the watchful eyes of the founder, whose obsessive quality philosophy extends from initial design through engineering and manufacturing, into assembly and even packaging.
Does this mean that CRG's basic replacement lever is over $100, and that its top-of-the-range clutch lever and perch is a breathtaking $400? Yep. But when I visited the workshop, there were several milling machines spinning double shifts, and that was in the dead part of the year, so there are quite a few customers willing to pay those prices.
The steady demand for such premium products may be explained by recent research done by a Stanford neurologist. He put volunteer sport bike riders in an MRI machine and got them to fondle CRG's GP clutch lever. He found that the part of their brain that was stimulated was the same one that was stimulated by pornography.
Okay, I made that up, but CRG's products have incredible sex appeal for gear heads.
The CRG shop isn't large. It's two bays of a low-profile office/warehouse strip development. During our visit, there was a Hypermotard parked outside and (strangely, since I just bought one myself) a mid-'60s 150cc Honda Dream parked inside. We saw a desk and a small lounge area on one side, where a marketing dude (whose name, appropriately, is Mark) works. On the other side, there's an old-school drafting table paired with a modern computer CAD station. Brad Craig, an engineer who is basically the left side of the CRG brain, was peering into the monitor.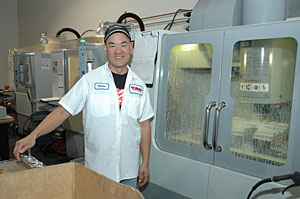 Spencer Owyang decided that "the business of design" wasn't for him. Although 10-15% of his work is custom design/engineering/fab for race teams, he's now his own client. • Mark Gardiner photo
Mark said, "Let's go in the back and find Spencer," and led us through a doorway into the rear. There were another couple of Ducatis tucked away in a corner back there. Most of the space was devoted to six or eight white CNC machines. CRG's founder was watching one of them robotically cut dozens of levers out of an alloy billet about two feet square and three-quarters of an inch thick, in a spray of white cutting fluid. He was wearing a white shirt that was absolutely spotless. In fact, the entire room was pristine. When he noticed us, he looked up with an "isn't this cool?" expression on his face, and no sense at all that we'd invaded his inner sanctum. It was like, "Hey, two total strangers; I hope they want to spend the afternoon talking about motorcycles."
We'd come to the right place.
We walked back through the doorway into the office, where it was quieter. I recorded our interview and a couple of weeks later when I got around to transcribing it, as I was listening back I thought, Is there music playing in the background? I realized that I could hear a robot symphony of humming milling machines. That's music to Spencer's ears, anyway. He told me, "We employ anywhere from seven to fifteen people, depending on demand. Right now, we have seven or eight people working two shifts. In general, if the spindles are turning, machine shops are happy."
That was an interesting way to characterize CRG—as a machine shop, as opposed to emphasizing design, engineering, custom fabrication or prototyping; it's all of those things too. His first motorcycle projects were all custom, one-off parts.
"I rode motocross as a kid," he told us. "In that era, I'd look at the Japanese sports bikes, and the full, plastic sport bikes weren't speaking to me. But later, when I was working in the bicycle industry, a friend came to work one day and he had a tricked-out Monster, and I thought, Okay, that's cool. At this point, I love them all; they're different flavors. As I got more immersed in the sport of road racing, I got enamored with the technology from all the manufacturers."
In the late '90s, he was working at Specialized and also building a few mountain bikes of his own, so he had machine tools at his house. He started making a few custom motorcycle parts for friends, and back then, when the AMA teams would come and test at Laguna Seca, he used to take the day off and go hang out.
One day, he noticed the Brembo remote-adjustable lever on Steve Crevier's bike. "It was a control-interface thing," he said, which is an industrial-designer's way of saying, "It looked and felt kind of crappy." He went home that night and machined up a lever that, it turned out, was basically the progenitor of both the Roll-a-Click and a new company. He went back to Laguna Seca the next day and Crevier was stoked with it.
Pretty soon, many of the top riders in the AMA series were squeezing levers that Spencer had "whittled out" (his words) in his garage, and he'd decided to quit his day job and start Constructors Racing Group. "For me, this company arrived at a time when I'd worked as a designer at Fox, at Hewlett-Packard, at engineering companies, and I knew that the business of design wasn't for me. I started CRG not framing it as a design company—I framed it as a manufacturing business, and the design and engineering were a value-add," he said.
"We were making levers mostly because the top guys all wanted their own shape. So you'd work a day programming a shape for a guy who used it for half a season." He recalled. "We were doing it because we really loved it. Financially, it didn't really make sense, but then we'd be watching Speed and the camera would pan the front row of the Superbike grid, and every bike would have our stuff on it."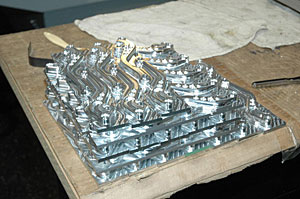 Cutting Roll-a-Clicks in bulk. As an industrial designer, Spencer has to optimize the product for human use. As a manufacturer, he has to optimize production. As a marketer, he has to optimize the customer experience. • Mark Gardiner photo
"I guess there's this rooted faith that if you keep doing this [racing stuff], it'll spin off into something that will keep people employed around here, and it does," he added. "We made a piece that was specific to racers, and I thought, Let's try to make that into a commercialized piece. I like to think that's really when it's working: racing really is improving the breed. And it was our first big seller. We didn't go into it with the notion that we'd just do our own products, but if we wanted to pick our favorite customer, it would be us."
Five or six years ago, when American Honda brought its racing program in-house, they outsourced almost all the custom fab work to CRG. It began with the U.S. team sending up a bunch of HRC parts and asking them to be replicated.
Spencer chuckled as he recalled looking at an HRC rearset and telling Al Ludington, "I can replicate this, but it's basically the work of a journeyman machinist working by hand. We can't turn that into something we can sell. So we took the underside cutaway, and the grip pattern that riders told us they really liked. And we changed the design to make it more manufacturable; we went from a peg that took seven or eight setups, with a lot of hand work, to a peg that took three setups and the operators were touching it something like 1.4 times per piece. We improved the breed through racing; we'd like to think that it's a GP-quality part, but you can buy it through any Parts Unlimited dealer."
Today, CRG produces levers, mirrors, and rearsets. Although there are only a few products, once you factor in all the motorcycle applications, there are hundreds of variations. Ten to fifteen percent of their time is still spent on one-off projects. There's a gorgeous steering wheel on display in the lobby—a prototype from a stillborn American F1 car project—and as we walked past the biggest mill in his shop, Spencer cryptically noted, "We could make a billet Moto2 chassis on this one." When I asked him if he said that because he had a contract to do it, he was little, uh, evasive.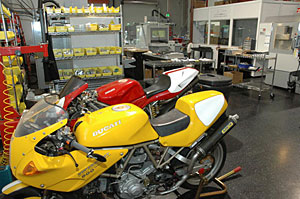 Although Spencer professes to love all sport bikes, it's clear Ducati is first among equals in his heart. • Mark Gardiner photo
In the early days, CRG was all about ambition and passion and charging after the stuff that stoked them, but none of that would have mattered if there wasn't a pragmatic business side too. CRG was determined to be a reliable supplier that delivered high-quality products on time. One of the advantages of keeping manufacturing in-house (the only thing they outsource is anodizing, and the anodizing shop's just over in the Central Valley) is that they can get a distributor order for several products in several different applications—dozens of line items amounting to hundreds of pieces—and ship them in a day or two.
Turning that passion into a viable business means taking care of myriad additional details that actually have nothing to do with the product itself, like paying attention to their component inventory, because you can't ship a product if you've only got four out of the five parts that go into it.
"Myself and Brad, we're not manufacturers" Spencer told us. "He's an engineer and I'm a designer; we think out of the box because we've never been in the box. Sometimes we go into a conventional machine shop and think, Why are you doing it like that? It's so inefficient." The machines have to be set up to run the components efficiently. At CRG, they've got it down to the point where they can leave a machine running all night, and come back to pull out 200 or 300 levers in the morning.
There's a meticulous attention to detail evident everywhere you look in the CRG shop, and it's also evident in things you don't see. For example, in most machine shops, there's a de-burring station for every machine. There are none here; there's one tumbler that takes off the very fine edges, but the machines are set up, maintained, and programmed to produce finished pieces.
Even the way boxes are wrapped contributes to the total customer experience. "I tell [our employees], 'Think about Christmas when you're putting that tape on the box.' If the Christmas present's wrapped all cobby, it suggests that someone didn't really care."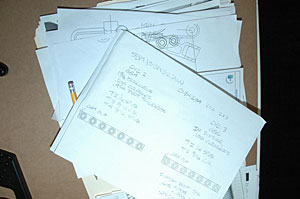 CRG designs still literally begin with a clean sheet of paper. That's not true of some of the company's rivals, who begin with a CRG product in front of them. Spencer used to feel that obviously superior manufacturing and quality control would protect them from cheap knock-offs. Lately, they've been filing more patents. • Mark Gardiner photo
Brad Craig was working on a late prototype for a new track-day/racing rearset that will be available any day. It was inspired by a custom product request by Erion Racing, for a rearset that was lighter and had fewer parts than their street version. The racier rearset looks sweet; an ingenious design uses two indexed plates to yield a dozen peg positions. The thing I like about it is, it looks really stiff. I hate weighting a foot peg and feeling the hanger flex—I want those forces to pass straight into the chassis; otherwise, I wouldn't be weighting the peg in the first place.
I was intrigued to notice that, in spite of CRG's very up-to-date engineering and production process, and just-in-time assembly and shipping system, Spencer still designs on paper. "I guess I'm a dinosaur in the regard," he told me. "Anyone who came into the business before me doesn't know computers, and anyone who came into it after me doesn't know drafting. Everyone's process is different, and for me the computer is still a metaphor for a window. So it's great if you want to see your clearances down to a thousandth of an inch, and really get into fine detail, and iterate things. This [sheet of paper] is a great design tool; the blinders are off—full view, and that's what the drawing table is like. If I'm on the board and I draw a 1mm or 2mm wall thickness, I can feel how strong that is, how heavy that is. I don't get that from the screen."
Once a design has been sorted out on paper, Spencer hands it off to his longtime friend and collaborator, Brad Craig, who works it up on the computer. "My strength is design, but I feel like I go further into the engineering than most designers," Spencer said. "And he has a better sense of design than most engineers, so we complement each other well."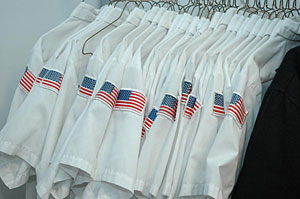 Remember Schroeder's closet in Peanuts, where he kept several shelves of Beethoven sculptures, for instant replacement after Lucy broke them? • Mark Gardiner photo
As I noted near the top, there was a 1965 Honda Dream parked in the shop, just like mine. Spencer had just read Mr. Honda's biography, and we compared notes on a man we both think of as a personal hero. Spencer shares Honda's love of racing and commitment to racing as a means of driving design and engineering forward, as well as his obsession with quality. Many forget that Honda's first business was making components and doing precise metalwork; he built a successful business supplying piston rings to Toyota before World War II.
Anway, after chatting for a couple of hours, it was time for us to split (or at least let Nero the dog out of the van to pee). As we drove away, we mulled over the experience we'd had at CRG. There was a kind of yin/yang aspect to it, what with the mix of design and engineering, of modern production with very old-fashioned business values; Spencer used the phrase, "a typical mom-and-pop shop" a couple of times to describe the place, which I think conveys an old-school attitude that not only isn't holding the business back, but is one of its strengths.
"We're the customers too," Spencer told us. "I remember being 16 and buying parts for my YZ125. I ordered a Pro-Fab swingarm. I'd saved up every dime of my paper route and dreamt about it for months. It came in this box with no packaging at all, and I opened it and it was a big limpie. The welds were marginal at best, it was not that straight. We want the opposite—we want people to open the box and think, I am so glad this is what I chose."